Solitary Man is a project of The WE Empowerment Center, a 501(c)(3) Charitable Trust. You can donate to support the project here.
Mission Statement:
To use Solitary Man as a vehicle to raise public awareness through theater about solitary confinement, and to participate in the movement to end the practice and create a more just, humane, and sustainable world.
Vision Statement:
To create an enduring work of art that touches the emotions of an audience, deepens their understandings, and hopefully inspires action.
To serve as a voice for the incarcerated class, and to use that voice as a tool and resource to network with and benefit the many streams of anti-mass incarceration organizing. The issue of prisons encompasses class, racial, and gender dynamics, budgetary priorities, and the basic humanity of a society. To present the show, raise funds, and promote discussions and actions after performances, Solitary Man will partner with a variety of groups working on many fronts – including to end solitary confinement, end Life Without Parole (LWOP) sentencing, stop local prison and jail construction, to fund education and social services instead of the prison industrial complex, and even to abolish prisons themselves.
Solitary Man will go where it's invited, be that a theatrical run, a school, university, church, community center, or even a comfortable living room. Have show, will travel.
2 Minute Video Preview:
Description:
In Solitary Man, Charlie travels to Crescent City to visit a lifer named Otis Washington (played by Fred), a 64 year old native of New York City, who's been imprisoned since 1975 and at Pelican Bay since it opened in 1989. To quote Otis, "There are people who say they have no regrets in life, and if they had to do it all over again, they wouldn't change a thing. Well, I'm just the opposite. Over the decades I've worked hard to better myself and recover from my raggedy past, but at times I feel this huge void. I've never had a visit from my family. I only have a sister and we're not close. Your correspondence has greatly helped me stay afloat." During their visit, Otis explains some of what he has learned and experienced.
Bios: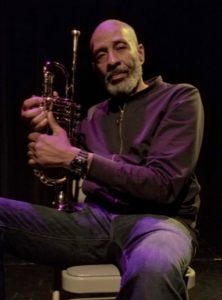 Fred Johnson is a formerly incarcerated person that has gone on to address the human rights issues of drug users and formerly incarcerated persons, as well as the wider community, guided by harm reduction principles. He has worked in a variety of settings, including policy analysis and syringe access programs throughout the US. He plays trumpet, mostly in the New York City area, and has recorded a CD, History Speaking (A Tribute to my Mentors).
Charlie Hinton grew up in Joplin, MO and spent 3 years in the Peace Corps in Bolivia. He attended the founding meeting of Bay Area Gay Liberation in 1975, and through BAGL, began his prison work. He worked for 19 years at Inkworks Press, a collectively owned and managed printing company in Berkeley, CA that closed its doors in 2015, leaving him "retired". Besides writing and visiting prisoners, Charlie works with Haiti Action Committee, the Prisoner Hunger Strike Solidarity Committee to End Sleep Deprivation, and the Committee to Free DeWayne Ewing, an innocent man. Solitary Man is Charlie's second theatrical endeavor, after his solo show Life Wish. He is the author of Life Wish: Essays, Letters, Songs, Solo Performance, Haiku written over time 
Responses to Solitary Man:
From inside and formerly inside the Walls:
I/WE want to Thank Mr. Charles Hinton for the wonderful work he is doing on our (Prisoners in California) behalf. We need for the world to see a glimpse of our daily suffering through this play, Solitary Man!!!
– Brutha Sitawa, Pelican Bay Hunger Striker
Signer, Agreement to End Hostilities, 2012
i/WE applaud Charlie Hinton for using his time, talent and creativity to help our tortured Class get the true story of our ordeal out to the World. A Solidarity Power Salute To You Charlie for your Solitary Man play.
– Brutha Baridi, Pelican Bay Hunger Striker
Signer, Agreement to End Hostilities, 2012

i loved it. the play was powerful. touched me and evoked both the tragedy of living in a colonized society,and the beauty of the human condition to resist!
– José Villarreal, Chicano torture survivor who spent 10 years in solitary confinement 
Thank you for making us human.
– Danny Murrillo, survivor of Pelican Bay SHU, now a student at UC Berkeley and an underground scholar
From the San Francisco Bay View, by Riva Enteen:
On April 21, I finally got to see Charlie Hinton's "Solitary Man" play at the Black Repertory Theater in Berkeley. It was so much more than a cultural experience. The play was gripping, emotional and real, with jazz trumpet sprinkled in. . .
The play is Charlie's memoir of his travels to Pelican Bay State Prison to visit a 64-year old lifer he calls Otis Washington, played by Fred Johnson, an actor and jazz trumpeter. When Charlie visited him for the first time, Otis told him, "I've been in solitary confinement … more than 30 years now. I would love to shake your hand, Charlie, but I haven't touched another human being since I got here."
That was one of the many moments when all the hearts in the room ached. It is a challenge to have a two-man show hold such interest, but I felt everyone sitting at the edge of their seats, because the drama, the emotional pull, was visceral. . .
Full review:
'Solitary Man' play and panel at the Black Rep – pain, survival, resistance
From theater goers:
I'm a mother of a son that been in the prison system now 10 years. To hear Charlie put a voice to my silent pain lifted me. It gave me hope and strength that I need to finish this journey with my son.
– Denise Jones
Never have I seen an audience so rapt — eyes and ears riveted to the stage. The combination of the play and the panel gave everyone a more thorough understanding — and hopefully a deeper commitment — than an Ivy League seminar.
– Mary Ratcliff, Editor, San Francisco Bay View
You should definitely not miss this show.  Very important, very appropriate, right on time.
– Kiilu Nyasha 
---
Solitary Man is a project of The WE Empowerment Center, a 501(c)(3) Charitable Trust. All checks should be made payable directly to The WE Center/​Solitary Man​. Contributions to The WE Center/Solitary Man are tax-deductible to the extent permitted by law.